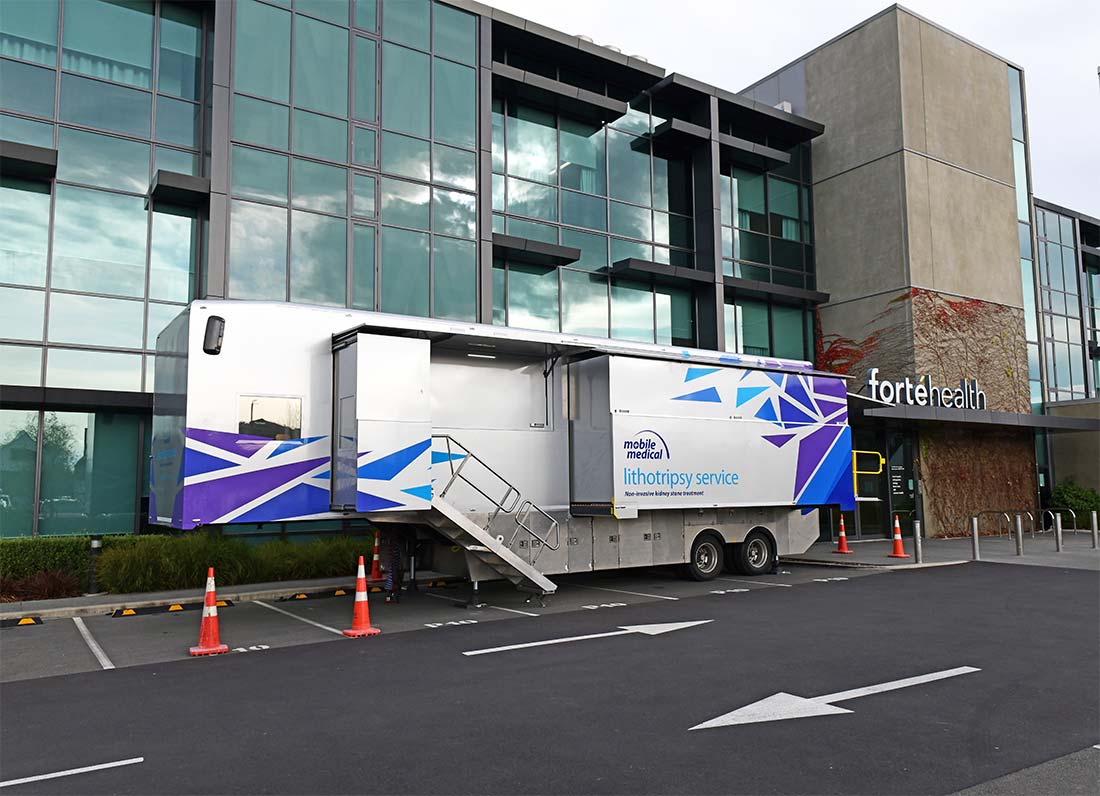 After years of planning and hard work, our new state-of-the-art Mobile Lithotripsy Unit launched this month. The new unit was custom-built with durability and high performance in mind, both on the road and in the treatment room.
The lithotripter was successfully removed from the existing mobile lithotripsy unit and installed in its new home by a German engineer who flew from Switzerland to complete the job. Clinical upgrades include a new anaesthetic machine and reticulated gas system, and a positive pressure vehicle ventilation system for a cleaner treating environment. The treatment and control room are larger, and there is easier entry stairs for patients and staff. The floorplan has also been improved to allow better patient flow, increased accessibility to the staff kitchen and private workspace, and a larger area for the clinical team with an extra slide-out for seating.
Not only has the interior design been updated, but the exterior has also been enhanced with a strengthened overall design with subtle aesthetic tweaks. The vinyl wrap design has a modern touch with a strong brand identity that captures attention and increases brand awareness.
We are proud to bring our patients and staff a new lithotripsy unit that offers the latest technology to successfully treat patients with kidney stones, as well as a comfortable environment during their journey from beginning to end. The new unit will support staff to deliver high quality care and an efficient service to local areas.
Thank you to everyone involved in the project – Forestaire Automotive Climate Specialists and SAS (Rotorua), Pascal Nolte (service engineer from Germany, STORZ MEDICAL AG) and DB Signs (Tauranga).
Discover the new lithotripsy unit by checking out the photos below.