mobile medical
The mobile, non-invasive kidney stone treatment Patient information
General information for all our patients booked for treatment on the lithotripsy unit. What are kidney stones?
Find out what kidney stones are, the different types and what causes them. Virtual tour
Our newly built mobile lithotripsy unit can be viewed virtually! 
Check it out.
Non-invasive kidney stone treatment
The lithotripsy unit provides a mobile treatment environment with a dedicated state-of-the-art Extra Corporeal Shock Wave Lithotripsy (ESWL) machine for the treatment of kidney stones, as well as other urological procedures. While very effective, lithotripsy machines are expensive and most regions in New Zealand do not have a sufficient case load to justify the purchase of their own equipment. The solution was to mobilise a purpose-built unit, allowing equal access to suitable patients throughout New Zealand. Sharing the facility is cost-effective and the mobile service also allows patients to be treated by their own urologist, close to home.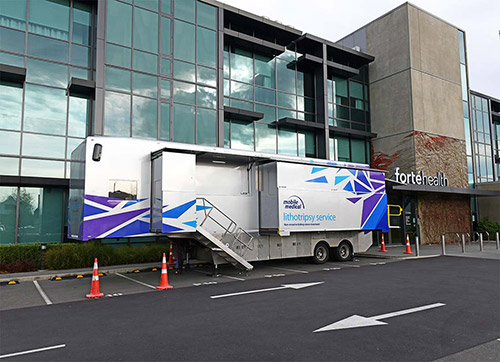 WHAT PATIENTS SAY ABOUT US:
"I was overwhelmed with the care and personal attention. You have care down to a fine art and I have been telling all what a wonderful experience I had."
–  Lisa Humphrey
WHAT PATIENTS SAY ABOUT US:
"I would like to say a big thank you to the team at Mobile Medical. From the time I had a diagnosis of an 11 mm kidney stone right through to the end they were very professional. The clinical team were very pleasant and reassured me the whole time I was having my treatment. One month later there is no sign of the kidney stone. Thank you Mobile Medical Technology"
–  Stewart Howden.
WHAT PATIENTS SAY ABOUT US:
"I'm absolutely stoked about how I was treated by the nurses on the lithotripsy unit and in the hospital. That was my first time, I was nervous but thanks to the team I've had no issues since. Scans came up all good. Been back at work since. I'm a truck driver. Thank you."
– Shane Tuhi Haeruha Kimura